We sometimes like to think that Featherlite is in the 'wow' business. Whether it's one of our horse trailers that's outfitted with a striking living quarters or one of our 53 foot NASCAR race transporters or an event marketing trailer, we want people to say 'wow'. We want people to have that great first impression. And when we're building trailers for our business clients, that's especially important. We want to do everything possible to give you the highest level of engagement with your customers.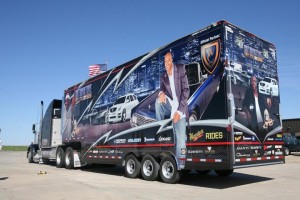 One way to do that is through exterior graphics or paint. We have a unique relationship with Featherlite Graphics so the process is seamless. Our Specialty Sales Managers will work closely with you and the graphics team to come up with a design in house, or we can work with a design you select from an outside source.
Basically you'll be choosing between paint or graphics. With paint, you choose from various colors or designs like stripes or other shapes. With graphics, we use a full or partial vinyl wrap that uses vinyl decals or photographic images printed on vinyl.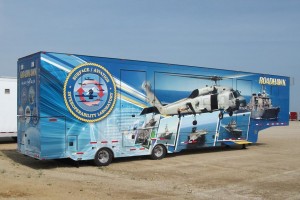 Think of a wrap as a moving billboard. Not only do you make an impact and get impressions at the event, but it's with you in between events too, spreading your message on the road. Overall, exterior graphics grab attention and draw people to your display or trailer. They also provide a lasting advertising or branding message. You can also target the message and change it out if you so desire.
By the way, let us know in the comments below what mobile vehicles or trailers have left an impression on you by their exterior alone.