Yesterday, we made our debut at the Radiological Society of North America's (RSNA®) 97th Scientific Assembly and Annual Meeting at McCormick Place in Chicago. This annual forum focuses on the advancement of the radiology profession.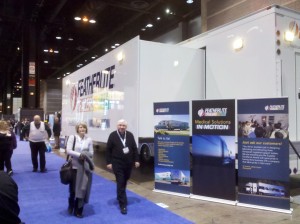 Featherlite has a large 53 ft. medical trailer on display at the event, and it's open for tours. It's the largest mobile radiology unit here!
Some facts about the RSNA Meeting:
RSNA has more than 48,000 members in 137 countries.
Last year, more than 58,000 people attended the meeting, including over 27,000 professionals from more than 100 counties.
It has been held consecutively in Chicago since 1985.
So if you're at RSNA 2011, stop by Booth 2538, and let us give you a tour of the Featherlite medical trailer!